OurTime Review for Australians

For men and women aged 40 and above, so many dating platforms are now available, and OurTime.com is just one of many options to consider, but the question is, "Should you really use it?" Read our OurTime review for Australians to decide.
Overview
OurTime.com is a niche dating platform geared towards men and women aged 40 and above. Bringing senior singles under one roof provides them with an opportunity to find a like-minded partner quickly and effectively. Most of the members are educated, so you'll find it works better as a place to find serious relationships. It still delivers a solid punch when your goal is to enjoy hookups and friendships without any long-term commitments. As it witnesses 1.5 million users from around the world, it's possible to find the right match for you from Australia. The site is quite user-friendly, making it the right choice for older adults with limited computer literacy. The downside is that most of the features are exclusively for paid members, though the membership fee is not very high. Moreover, there isn't any personality test available to simplify profile creation and matchmaking.
Member Structure
OurTime.com has millions of users with more than 1.5 million coming from Australia alone. The large majority of members are men and women over 50s, but there are younger singles available for hookups.
Registration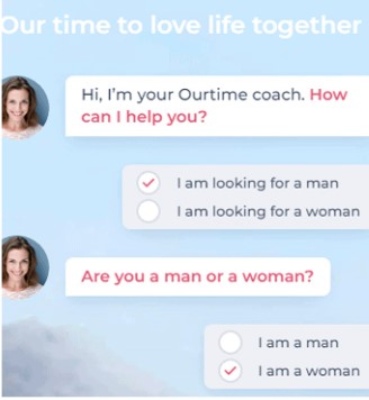 There is no need to worry about answering unnecessary questions when signing up on this website, which makes registration quite quick and effective. You just need to answer simple questions with personal info to get started. It's possible to upload up to 30 photos when registering. The process is so simple that individuals over 50 won't face any trouble whatsoever. Though the lack of any additional personality tests and surveys makes the registration process short and quick, it also means you'll have a hard time finding the most appropriate match in the first attempt. Therefore, it's better to be elaborate when creating your profile for accurate matchmaking help.
Making Contacts
You're not going to face trouble when looking for like-minded people. Interestingly, the search filters help you find friends, pen-pals, dates, long-term relationships, and partners looking specifically for marriage. You can even find matches based on their age, marital status, relationship expectations, etc., to get what you want. Anyone can view profile pictures, so you can also pick and choose in that way. Once you've shortlisted a few candidates, you can try various modes of communication for contact. You can send and receive messages once you're a paid member. You'll be notified when someone sends you a message, and you can post a reply to start a conversation. When you don't have a paid account, you can still grab others' attention by pressing the "Flirt" button.
Profile Quality
Creating your profile won't be hard on this platform, and there will be good detail on each profile to help you make a choice. Profile pictures are viewable to everyone, which is good, but it may make some people a bit more skeptical, as singles over 50 often want to explore more intimately. There's no personality test, but you can fill up several fields and boxes on the profile page.
App
OurTime.com mobile app is extremely popular, considering the target demographics. It seems that seniors want to keep in touch with their accounts and the latest updates on the move. In terms of features, you won't notice any difference in the app and the website. The text and icons are quite visible, making it possible for senior members to explore the app with ease.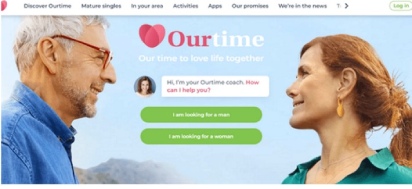 Special Features
It will be possible for premium users to change the background color of their profile to make it look lively. You can also change the color of your messages to stand out from the crowd. One interesting feature is called behavioral matchmaking, which, to some extent, makes amends for the absence of any personality survey. It checks your recently searched profiles, messages, and general activity to suggest new matches. This tells us that the site relies on a solid search algorithm, which helps deliver great results. ProfilePro is yet another feature helping you create your profile in a more professional way. ConnectMe, MatchMe, and PromoteMe are some other special features available to premium users only.
Usability
You'll encounter no issues when navigating the website because the layout is quite organized and neat. Most of the features are easily accessible with buttons clearly visible. It's actually a good thing considering the target group for this dating site being singles over the age of 50. You won't face any trouble creating an account and then find matches using search filters. There's nothing flashy on the homepage, but it does the job quite nicely.
Costs and Prices
1-month plan: $34.96/month
6-month plan: $15.96/month
6-month plan: $19.96/month
OurTime.com offers various packages to help you select what works for you. You can opt for a Standard Subscription or go for a Value Subscription depending on your budget. The value subscription is going to offer more perks, though, which helps you become more visible on site.
Pros
Designed mainly to serve singles over 50
An extensive database with millions of users
An easy to use website structure
Mobile app available for free
Reasonable pricing and various packages
Cons
No personality test available
Messaging available for paid members only
Real Life Reviews
Natalia
"I've tried many other sites, but nothing helped me find partners over 50 until I landed on OurTime.com. It's just perfect for people like me looking for senior dating."
Melissa
"Not every dating site caters to the needs of mature singles, but OurTime.com seems to be different, as it kept me interested from the very first moment I joined it. Still using it for regular chats."
Security
The website looks quite secure, as they've utilized the most advanced encryption techniques to protect your data and payment details. As there's no mechanism to check every profile for authenticity, you're going to find a few fake profiles every now and then. Be cautious and insist on having a video chat after your initial interaction with the person.
Premium Extras
Premium members will gain access to premium extras, most of which are designed to improve your website's visibility. PromoteMe is one such feature that works to make your profile more visible by occupying a top place in search results. For seniors, sending virtual gifts is a great way to grab their attention, and OurTime.com helps you here with their feature called "Virtual Gifts". By using ConnectMe feature, you can get a virtual phone number to have direct interaction with your potential dating partner. This protects your privacy and still gives you the chance to be more intimate with your partner.
Cancellation
No issues have been witnessed by members who tried to cancel their subscription, so you won't experience any, either. Still, you can get in touch with the customer support if you face any trouble accessing the option in your account section.
How Is It Possible to Avoid Fake Bots and Profiles?
You need to be careful when sending and receiving messages and be able to read between the lines to judge if the message comes from a real person or not. Trying video chat is a way to discourage scammers, and you can try calling them using a virtual number you get from OurTime.com.
How Do You Pick up Seniors on OurTime?
It's easier than you might think, as search filters are extensive, and the database is huge. Run a search, and there will be several matches to contact through chat, instant messaging, and even phone conversation. Play your cards right, and you'll win a date in no time.
Effective Tips for Successful Dating
Be honest when creating your profile and never lie about your age or marital status, especially when you're looking for senior dating. As there's no survey on OurTime.com, it's important to fill out your profile page on your own and in the best way possible. Let others know if you're looking for friends or you're after something much more realistic and long-term.
FAQ
Is OurTime.com Safe to Use?
Yes, the website is quite safe, as far as the security of your data is concerned. They don't have a system in place to check profiles for authenticity, so you have to be cautious there.
Which Photos Won't Get Approved?
Any photo that contains nudity, pornographic material, or minors won't get approved. You shouldn't share celebrity images either.
What Makes OurTime.com a Popular Site?
It's popular because it's a niche site targeting people over 50, a high population demographic. Other dating sites just have a section to cater to senior singles' needs, but OurTime is all about finding mature partners, which is why it's extremely popular.
How Does the Site Work?
It works in a simple way with you creating an account. Anyone over 18 can sign up and use search features to find matches. Paid members can use advanced filters to narrow down their searches further and find the best partners. Contact those matches using email, message, and virtual phone to arrange a date.
Are OurTime.com and Match.com the Same?
Not, really. However, the same company is behind both these sites, but Match.com is more of a mainstream site, whereas OurTime is focused on senior dating in Australia.
Who Can Join OurTime.com?
Anyone over 18 is eligible to create an account, but most people are over 40. So, you can join if you're interested in senior dating.