Visit site
eHarmony is one of the most popular dating sites out there. The service is highly recommended for people who are seeking marriage partners or someone for long-term relationships. This review looks at how this website can help you get your soulmate.
Membership at eHarmony
A majority of people join eHarmony dating site to find long-term partners and possibly marriage. These members are mostly between the ages of 24 and 34, although there are also many people between 35 and 45. It is a universal dating site and has members from all over the world. Members are educated people with a stable lifestyle, but single and searching for compatible partners to share their lives with.
Joining eHarmony
New members can join the dating service either through email or Facebook. A questionnaire is filled up to provide details for the system's matchmaking. The whole signup process can take around 10 minutes. eHarmony login process is also smooth.
Meeting a Match on eHarmony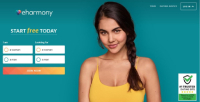 The detailed questionnaire during the signup process makes it easy for the system to match up compatible members. The compatible tab shows your compatibility score with certain members. Some of the attributes you will find on the compatibility tab include:
Physical intimacy
Emotional intimacy
Agreeableness
Social values
Religious values
Romance
Athleticism
Exclusivity
Affection
Altruism
Members can also pick potential matches by reading random questions that the 'match' has answered.
Quality of Profiles
The lengthy signup process ensures that profiles at eHarmony are detailed. Members can change or update their profiles anytime. All members, including those on a free membership, can view profiles. However, viewing profile photos is a preserve of premium members. The dating service also lets you only access profiles that match yours.
How Is the eHarmony App?
The eHarmony mobile app has the same basic interface as its desktop counterpart. All desktop features are available on the app. The app is available on both iOS and Android and is free to download. Members will be happy to know that it only features minimal ads.
Design and Usability
The dating site is designed to appeal to young users yet still has a basic and friendly user interface. You'll, therefore, only see a few tabs and icons. The minimalist design works to make things simple for users. Matches are arranged in a listing grid, showing the name, age, and city.Members can link their Facebook account to eHarmony to import profile photos. eHarmony does not post anything back to your Facebook account. In fact, no one on your Facebook list of friends will know that you have signed up with eHarmony.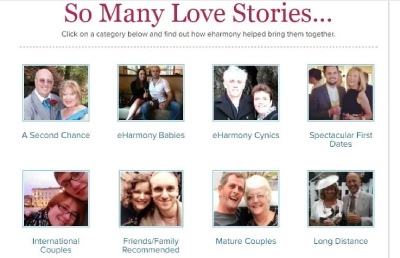 Any Special Features?
Several features make eHarmony dating site stand out. Members can send a 'smile' to their matches. It's a good way of showing interest and initiating contact. You can also send automated questions as conversation starters. The feature — automated questions — is free for all members. You can create a list of favorite members or profiles. There is also the 'What if' feature that is only available to premium members. 'What if' gives you access to 30 more matches outside your preference list. Video dating is also available, letting you meet other members via video.
Security and Support
The dating service has robust privacy and security systems. You can also contact support for any assistance or issues. The website allows you to block people you suspect to be frauds or those that have offended you.
What Does It Cost to Be a Premium Member at eHarmony?
Three premium subscription options.
Lite subscription: 41.93 AUD per month – 251.55 AUD for 6 months.
Premium Plus: 31.41 AUD per month – 376.95 AUD for 12 months.
Premium Extra: 24.28 AUD per month – 582.75 AUD for the two-year subscription.
New members can also take advantage of the eHarmony free trial before upgrading.
Pros
You will enjoy the extensive profile making process.
There is a video dating at the platform.
The website is proud of its strong privacy and security features.
Be sure about no in-app transactions.
It is a digital matchmaker.
Instant conversation starters.
The platform attracts serious daters.
Cons
The signup questionnaire can be daunting.
It is expensive enough.
There is a basic feature on premium membership.
Real Life Reviews
Jack, Ryan
"Although you have to pay to enjoy the full service, it is worth the money. You have to take your time to find the right person through the platform."
Alice, Anderson
"This is a good dating site for people seeking serious relationships. I was able to find my partner through this dating website. It is definitely the best site for marriage-minded people."
Why You Should Use eHarmony
The good thing about eHarmony dating is that it's a dating service for serious people seeking long-term relationships. It is rare to find jokers on the platform. The pricing also weeds off jokers and fake profiles.This website also employs high levels of security systems to protect its members.
Are There Any eHarmony Alternatives?
Every dating service seeks to be unique in its operations, but there are still good alternatives to eHarmony. Serious competitors are Match and OkCupid. Although Tinder and Bumble are also popular, they are not places you'd go to look for serious long-term partners.
Experts Conclusion
eHarmony is a good dating service for marriage-minded singles. The detailed profiles give members enough information about their matches before contacting them. You can try this service if seeking a long-term commitment.
FAQ
What Is the Meaning of the Green Checkmarks on the Message Tab?
When you send a message to another member, there will be a single green checkmark. When the recipient reads the message, there will be two checkmarks.
How Is It Possible to Delete eHarmony Account?
You can delete the account by clicking the arrow next to your photo. It will take you to Data & Settings, go to Profile Status then, and click the 'permanently delete your profile' option.
How Do I Turn My Matching on and off?
To turn matching on and off, click the arrow next to your photo. Click Data & Settings link, and under the 'Profile Status' section, click the green slider if you want to be invisible.